Philips Hue White Filament 1-pack G93
Product SKU:
929002241401
Available:
Only 2 items in stock
2 items in stock
In stock
Out of stock
Back in stock
Bluetooth App Control*

Works with the Hue Bridge

Soft white light vintage bulb

Instant control via Bluetooth

Control with app or voice*

Add Hue Bridge to unlock more

Make a statement with a round LED globe bulb featuring a coiled filament design. Vintage in style but still modern: with Hue Bridge and Bluetooth capability, it can do everything other smart bulbs can do, including dimming and brightening.
The bulb
Colour temperature
Diameter
Energy efficiency label
Fitting
Form factor
Height
Input voltage
Light output
Warm white light
Dimmable via smart device only
>80 CRI
Lumen output
Max. operation power
Number of switching cycles
Rated lifetime
Software upgradable
Start up
Instant 100% light output
Wattage equivalent
Communication protocol
Deep dimmable
Software upgradable
When connected to Bluetooth App or Hue Bridge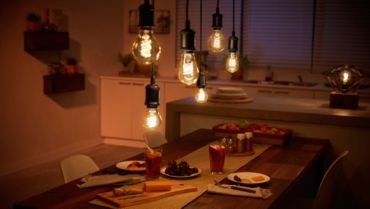 Vintage design meets modern capabilities
Capture the popular look of Edison bulbs, featuring a distinct glowing inner coil and transparent globe, with smart filament bulbs. These smart retro-style LED bulbs combine the look and feel of simple vintage design with the power of Philips Hue smart lighting.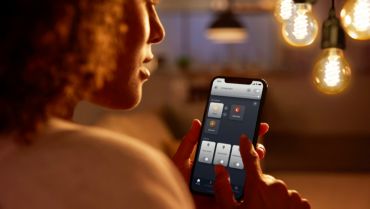 Control up to 10 lights with the Bluetooth app
With the Hue Bluetooth app, you can control your Hue smart lights in a single room of your home. Add up to 10 smart lights and control them all with just the touch of a button on your mobile device.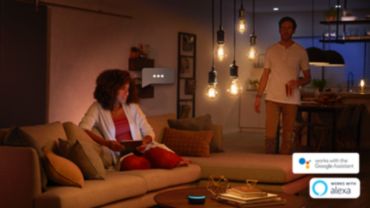 Control lights with your voice*
Get hands-free control of your lights and use your voice instead! Simple voice commands allow you to control multiple lights in a room or just a single lamp. *Works with the Google Assistant and Amazon Alexa.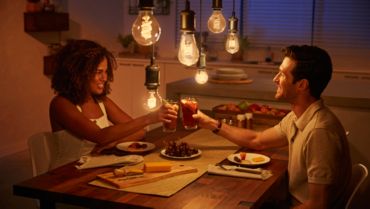 Set the right mood with soft white light
Hue bulbs and light fixtures use a soft white light. Dimmable from bright daylight to low nightlights, these smart lights allow you to fill your home with just the right level of warm light when you need it.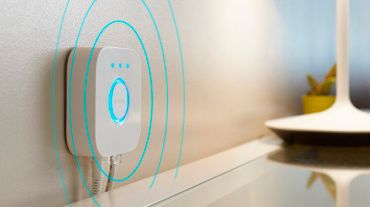 Unlock full suite of smart light features with Hue Bridge
Add a Hue Bridge (sold separately) to your smart lights to experience the full suite of Philips Hue features. With a Hue Bridge, you can add up to 50 smart lights to control throughout your home. Create routines to automate your entire smart home lighting set-up. Control your lights while away from home or add accessories such as motion sensors and smart switches.